Summary: Cyber threats to SMBs are rising, making cyber resilience the need of the hour. This article, the first in a series of product specials, offers awareness and understanding to SMBs on the importance of vulnerability assessment and penetration testing (VAPT) to leverage these products to improve their cybersecurity posture.
This article looks at the VAPT product space and its relevance to SMBs. We glance at the benefits, and consumption journey and underline a few considerations that businesses should think about.
Vulnerability assessment
 refers to a "systematic examination of an information system or product to determine the adequacy of security measures, identify security deficiencies, provide data from which to predict the effectiveness of proposed security measures, and confirm the adequacy of such measures after implementation." NIST similarly defines 
penetration testing
 as "a method of testing where testers target individual binary component or application as a whole to determine whether intra or inter-component vulnerabilities can be exploited to compromise the application, its data, or its environmental resources."
Market Summary
VAPT Relevance to SMBs
As SMBs become more technologically advanced & consume more digital products, they tend to expose more upstream vulnerabilities to enterprises that utilize such SMB inputs. For example, 
the data breach of Target
, where attackers gained access to a customer database, installed malware and scrapped millions of customer identity and payment information was perpetrated by compromising a downstream third-party vendor. To add perspective, in 2020, 
over 22 billion records were exposed globally
 from 730 publicly disclosed data breaches.
VAPT is a much-needed product for SMBs because:
VAPT Product Usage
The IT Governance, UK recommends all businesses, irrespective of their profile, should undergo a penetration test at least annually. 
Gartner
recommended vulnerability cycle is shown below: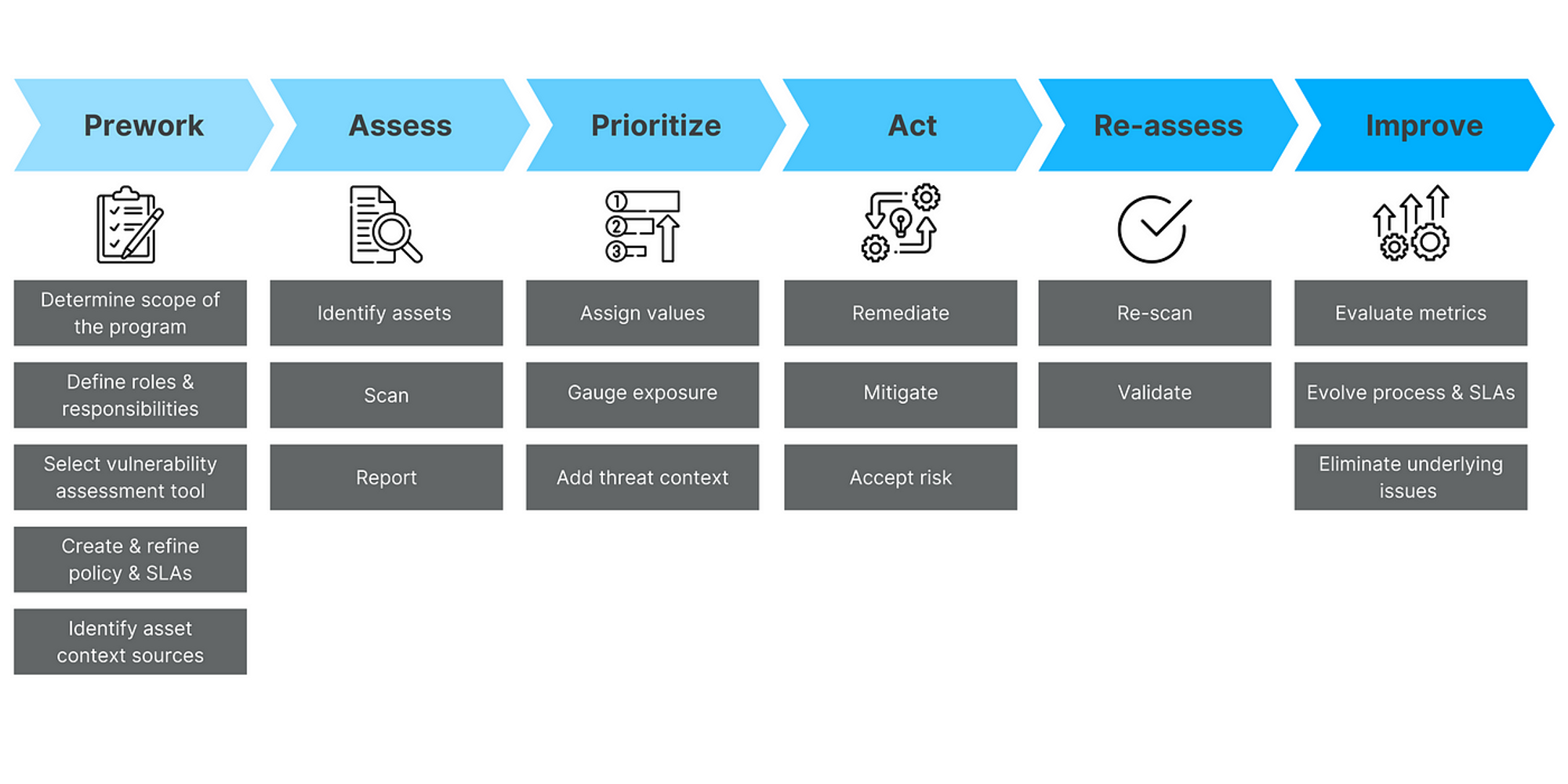 Typically, most businesses consume VAPT products or services by starting off with pre-works which includes defining the process scope/roles and responsibilities, selecting methods and tools, creating and refining policy & SLAs and identifying asset context sources. The actual VAPT process includes assessment, prioritization, action, re-assessment and improvement.
VAPT Procurement / Installation and Deployment
The major things to consider by procuring a vulnerability assessment or penetration testing service include:
How can a marketplace help?
Marketplaces have tremendously helped SMBs in adjacent domains by improving efficiencies and simplifying buying. Cybersecurity marketplace platforms (like Ofofo) look to drive similar efficiencies and improved experiences by bringing domain awareness, ease of consumption and confident buying to the SMB cybersecurity market.
While understanding product/service requirements for VAPT, marketplaces can offer knowledge resources along with guidance to transparent and standardized procurement. Key features include visibility & comparison of product/service features along with pricing to enable an easier decision process. By carefully vetting solutions on the platform and conducting extensive due diligence of sellers along with customer reviews, Ofofo offers an environment of trust and clarity.
Conclusion
SMBs should consider VAPT as a primary step for building/improving their cybersecurity posture. Embracing a business-specific product usage strategy along with frequent assessments allows businesses to identify gaps in cybersecurity defence. Penetration testing is used to ensure those gaps (identified during assessment) have been covered. Together, vulnerability assessment and penetration testing equip SMBs to build a well-rounded security posture.
Written by