Summary: Cybersecurity has become increasingly vital for SMBs. In this article, we understand how a cybersecurity marketplace can create value for all stakeholders in the ecosystem, including buyers and sellers.
---
With growing cyberattacks, cybersecurity has become extremely crucial, especially for SMBs. While large companies have been usual victims historically, hackers are now increasingly targeting small and mid-size businesses (SMBs). Although SMBs are increasingly cognizant of the importance of cybersecurity, executing it often becomes difficult.
Even before the onset of the COVID 19 pandemic and the spike in cybersecurity attacks, a 2019 
Keeper Security/ Ponemon Institute study,
highlighted how there was a 20% increase in attacks since 2016. Besides, 66% SMBs reported experiencing a cyberattack during 2018–19 and 45% SMBs said their organization's security posture was ineffective at mitigating attacks. The most common attacks on SMBs in the last year include phishing / social engineering (57%), compromised/stolen devices (33%) and credential theft (30%).
This indicates that heightened cybersecurity product interest and increased SMB spending are here to stay and grow irrespective of the pandemic spike.
Why are SMBs Focusing on Cybersecurity?
Is the SMB Cybersecurity market attractive?
The global cybersecurity market is currently estimated to have a size of $ 143 Bn and has been growing at a CAGR of 10.7% over the last 5 years. SMBs constitute approx. 43% of the pie today and is forecasted to grow at 10% CAGR between 2020–2025. SMBs will increasingly spend more resources on cybersecurity risk assessment, investment planning and technology expenditure with forecasts indicating increased procurement of cybersecurity-related products and services.
Issues with addressing the SMB Cybersecurity Market Opportunity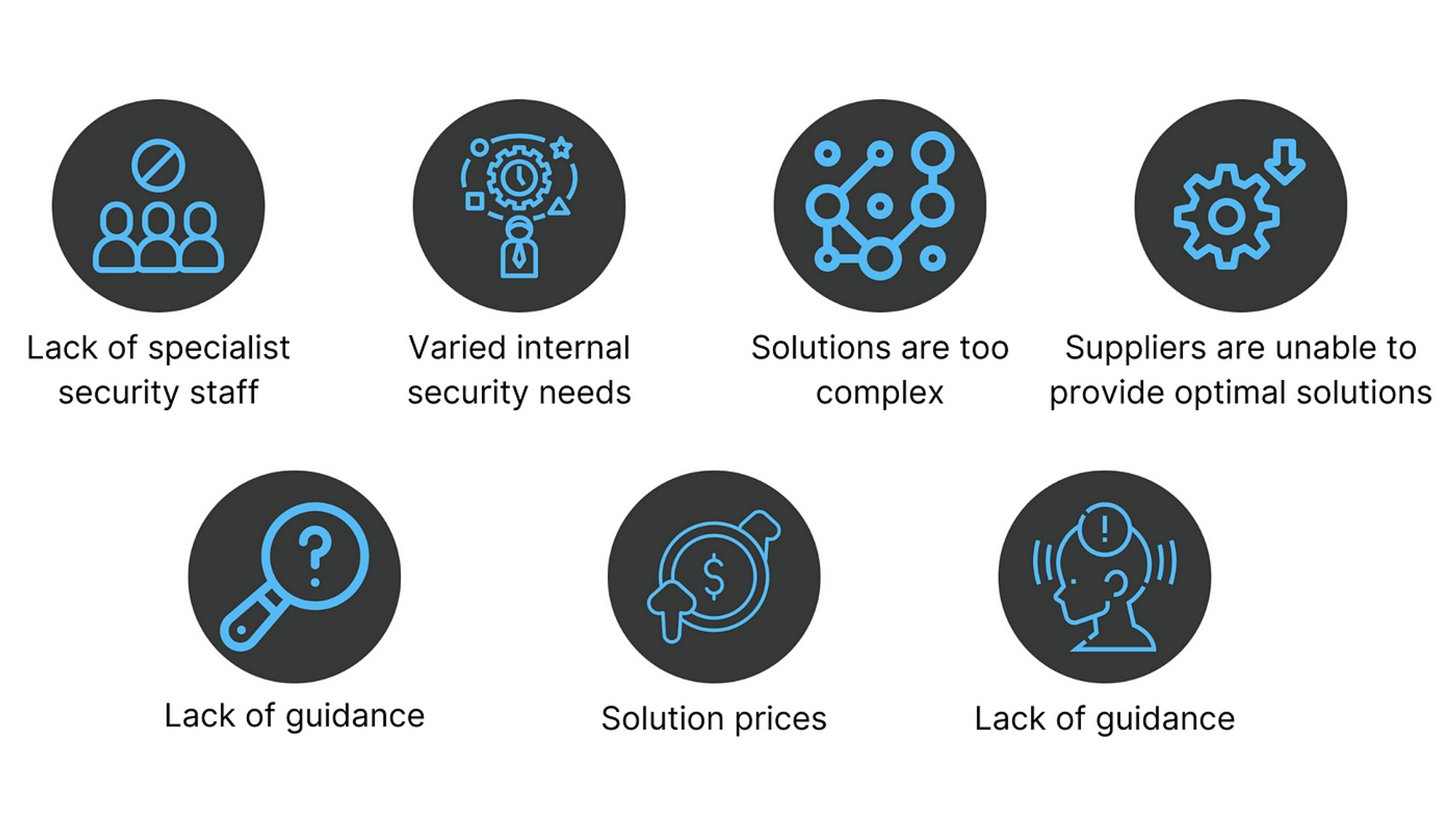 Marketplace As a Solution
Marketplaces have been a major driving force in eliminating market inefficiencies faced through interventions such as: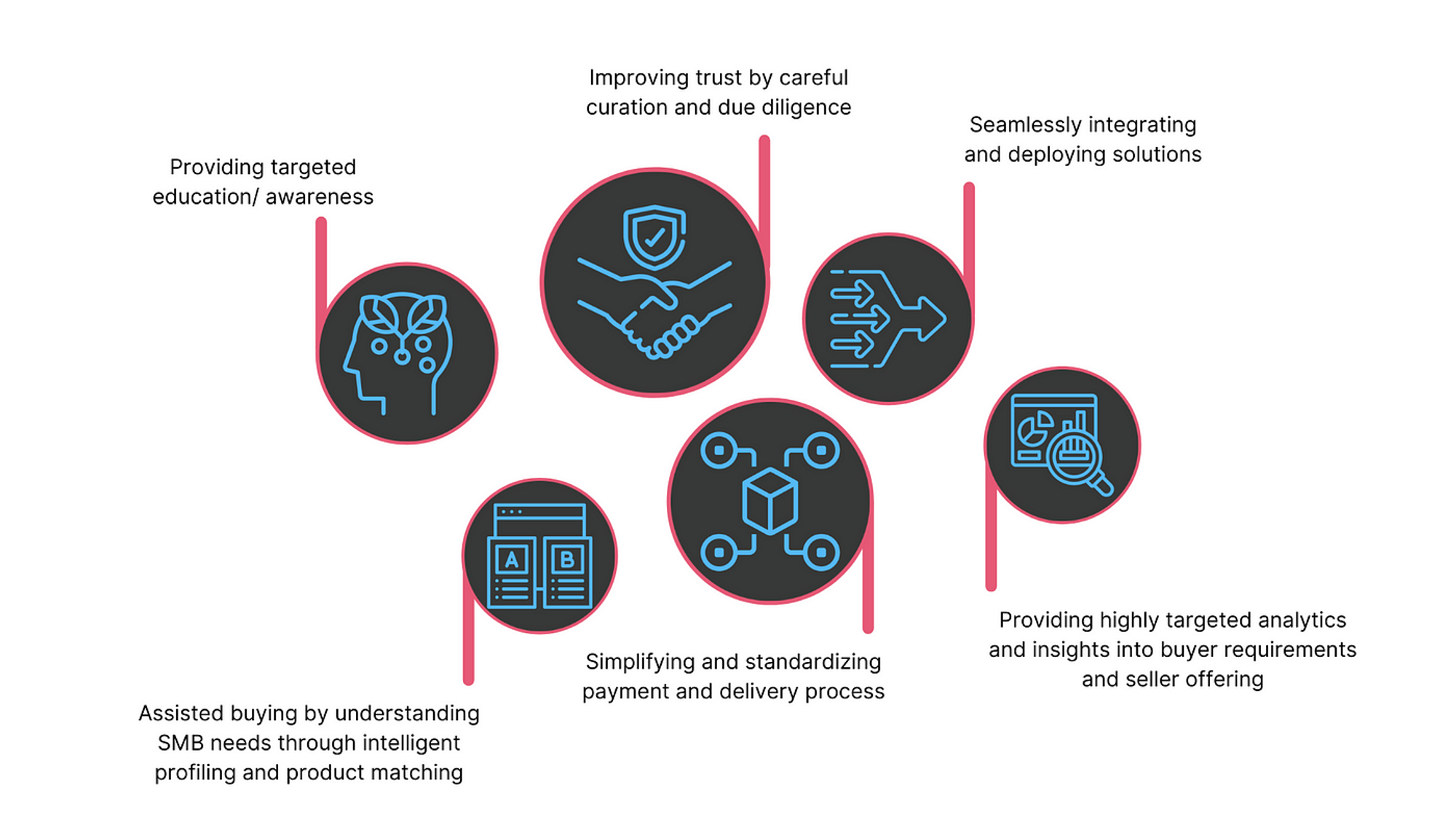 For a cybersecurity seller, a Marketplace platform offers transparency, trust, visibility, knowledge, tools and analytics.
For a cybersecurity buyer, a Marketplace platform offers curated sellers and offerings with price and terms transparency. Beyond optimizing buying process, it can also offer key tools to perform assessments, matching, tracking and deployment.
A few
 examples
 of how small, yet high potential marketplaces have addressed similar market lacunae and caused disruption in adjacent domains are:
AdQuick, allows buyers to book out-of-home (OOH) advertising. It provides advertisers with accurate attribution analytics, enabling them to measure the effectiveness of an outdoor campaign which is very much like how the ROI of online campaigns is measured.
Rigup, Faire, and Ankorstore grant 30 to 90 days of credit to eligible buyers while also allowing their suppliers to get paid right after the order is purchased. These marketplaces take on the credit risk of a buyer by not paying during the time of exchange for greater supplier loyalty.
Conclusion
Marketplaces have tremendously helped SMBs in adjacent domains by improving efficiencies and simplifying buying. Cybersecurity marketplace platforms (like Ofofo) look to drive similar efficiencies and improved experiences by bringing domain awareness, ease of consumption and confident buying to the SMB cybersecurity market.
Written by